For this 2020, 2 veteran trading experts in their own fields, come together in one setting, for this exclusive event: The Traders' Circle.
Join us on January, 11th 2020 for this exclusive, intensive and informative workshop hosted by 2 key, acclaimed speakers in the trading industry, spanning from 10am to 1pm.
Packing Stocks, Forex and CFDs into one single setting!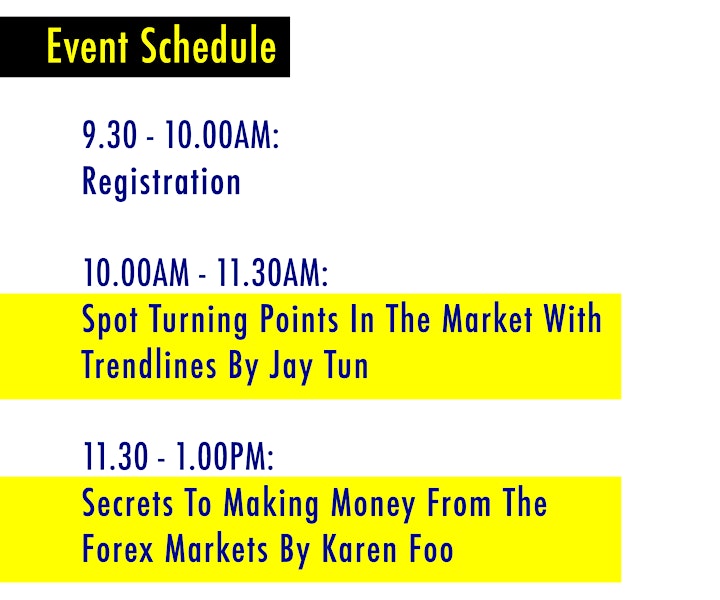 Session 1: Spot Turning Points In The Market With Trendlines By Jay Tun
Regardless if you are new to trading or has been trading for awhile, knowing where the turning points possibly are will undeniably give you an edge in the market.
To the untrained eye, it seems almost magical how some of the "experts" are able to know whether a trend is changing in advance.
In this session, Jay will showcase how he use trendline to tell the strength of trend as well as to spot possible turning points in the market using it.
You will learn:
✔ What are trendlines and the common misconceptions
✔ What makes trendlines effective?
✔ Trendlines vs Support & Resistance: which is better?
✔ Using trendlines to spot possible turning points quickly
✔ Incorporating trendlines into your analysis effectively
Session 2: Secrets To Making Money From The Forex Markets By Karen Foo
Forex markets are extremely volatile and most retail traders don't make money.
Karen, ranked #1 in a Singapore nationwide Forex trading competition will show you her secrets in successful FX trading. Here's what you'd learn:
✔ 4 vital components you need to success as a forex trader
✔ How to determine forex entry points with confirmation
✔ Why risk management is more important than your trading system
✔ How to ensure that your trading will last and be profitable in the long run
✔ How to determine if your trading system is profitable
This is The Traders' Circle. Unlock your trading potential with the help of 2 critically-acclaimed traders in just one setting.
Get to mingle, network and ask questions with them.
Register your seat now. Strictly limited seats.
Your Acclaimed Speakers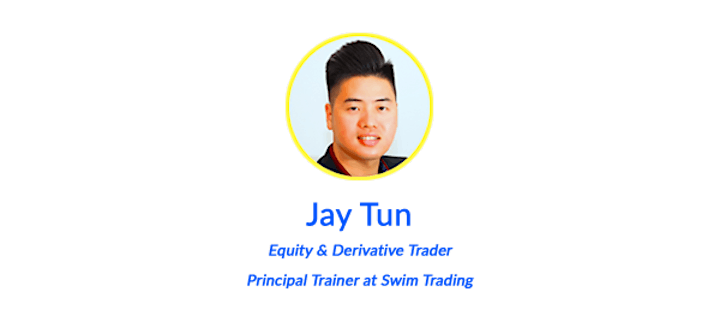 Jay Tun
(Equity & Derivative Trader | Principal Trainer at Swim Trading)
An independent trader who seeks to educate through his own trading successes and missteps, Jay began his own trading journey at the age of 23.
He is a self-taught trader who has read more than 100 books on trading and investment since college and models his trading methodologies after several veteran traders.
Jay has since amassed 7 years of experience trading in different market conditions with consistency. Of the many disciplines in trading, he specializes in selling options and swing trades on equities, currencies & futures.
Hundreds of retail traders from Singapore, Malaysia & Thailand have benefitted from his Swim Trading Tutorial. Being well trained to understand market forces, master the necessary tools for analysis and having developed a defensive psychology alongside with prudent money management strategies, his graduates are able to generate an additional income consistently.
Jay is now actively involved in speaking engagements in Singapore, Malaysia & Thailand. You can connect with him at www.jaytun.com.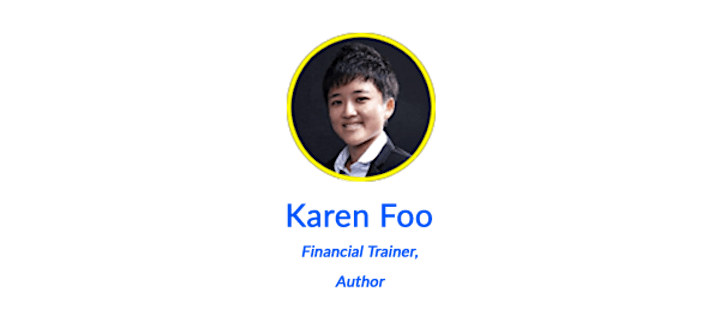 Karen Foo
Karen is actively involved in speaking at various conferences, seminars, expos, workshops, toastmaster clubs and publicly-held events in Singapore and Malaysia.
Having overcome numerous setbacks in her life, she has gone on to inspire thousands of youths working executives and leaders of various companies to REALIZE THEIR ABSOLUTE WILDEST DREAMS through her INTERACTIVE, INSPIRING AND ENGAGING TALKS. Being labelled as the "quietest student and underachiever" throughout her life, she went on to win numerous awards in public speaking contests, scholarships and hosting large-scale events as an emcee.
She was then featured in various print media for her academic achievements. She has also been invited to speak at an international conference to leaders from Brunei, China, Hong Kong, Laos, Malaysia, Vietnam, Indonesia, Myanmar and Singapore.
Karen has been ranked #1 in a Singapore nationwide Forex trading competition, competing with over 200 traders from NUS, NTU, SIM and SMU. She was also ranked 10th in a contest organized by FX Street, competing with over 3000 traders from over 20 countries. She has shared the stage with top investment gurus and CEOs at an international expo held at Marina Bay Sands. She is also the contest judge for numerous public speaking contests held around Singapore, ranging from club level to the National level contests.
Her wide range of experience has led her to co-author a book, "Turning Ideas into Profit" with 10 other Asia's experts and professional speakers. Karen is also a contributing author of an investment book titled "Your Cash Moves", foreword by Adam Khoo, Asia's Top Success Coach.